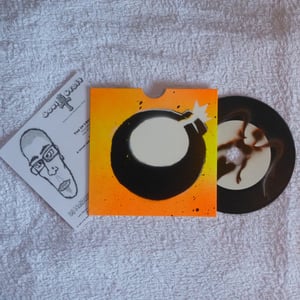 £

4.95
A: IN10city
From the off, twisted vocals and bass pitch tones bend your mind. Next up, intense spiraling FX lead to the drop from where, metallic sounding snares and Dr Martin size12 scuffed beats take control. Lashed with a crunching modulated bass to great effect. From the 2nd drop a haunting atmospheric vocal and heavily gated mid-range growling bass increase the 'intensity' of the track. Narrows serves it up dirty'n'dark.
B: Sharp Arrows (Bombs Like)
For this track Narrows delivers with a more upbeat affair. 2-step beat patterns, skippy percussion and froggy-style bass will make this track instantly recognisable on the dancefloor and in the mix. A unique gangster sway and an interchanging 'lego' bass construct one hell of a dancefloor destroyer!!
C: So High
This track highlights Narrows' trademark production. Followers of his sound will know what Im talking about.
4x4 beats that will make your hair curl, rolling from the off. 'Buzzed up' bass arrives alongside monster the kick/snare that is igniting dancefloors worldwide. You can hear in the track the jungle rave backgounds of Narrows with a pitched down amen break. The track sits nicely between the distorted vocals and efx combos.
This one will appeal to many DJs from across the board because of its 4x4 style beats.
Each CD sleeve artwork is an original graffiti/stencil by DJ Narrows which is signed and numbered out of 100.